Petronas HDPE Pipe Ballasting Project
Smart Ties attached Ballast Chain to HDPE Pipe
There are many uses for our Smart Range of clamping products and recently Petronas used our Smart Tie 32mm PA12 to secure a ballast chain to an HDPE pipe so that it would rest on the ocean floor after the launching floats had been released.
Supplied in conjunction with our Thailand Distributor, JST, these were fitted every few meters and tensioned with our SM-FT-2000-32 hand tool.
The Client was looking for a completely non-metallic solution (bar the ballast chain) that could be applied with minimum effort, provide a secure attachment of the ballast chain and have a design life of +25 years. Our Smart Tie made from Nylon 12 material fulfils this brief in every way.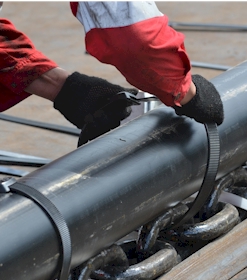 The following video was taken on site and illustrates the speed at which the Smart Ties can be fitted against alternative strapping solutions.